atom Alliance Launches Diabetes Education in Alabama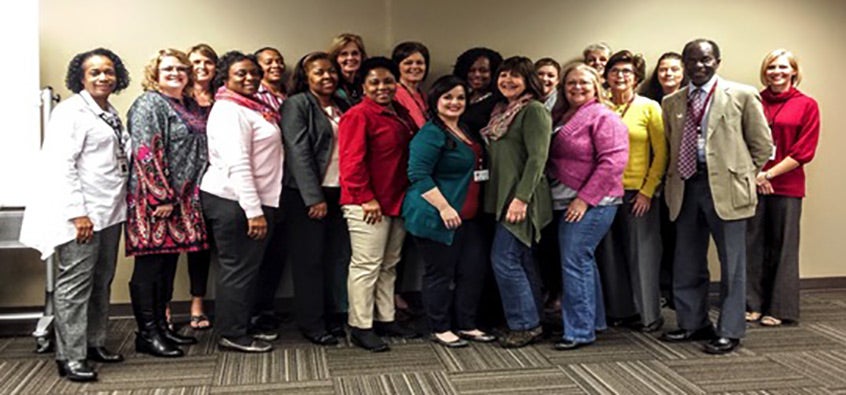 Alabama has the 4th highest rate of adult diabetes in the nation. While the national average is 10.1%, Alabama is at 12.9%. However, the Alabama Quality Assurance Foundation (AQAF) is taking strides to decrease this rate as part of the Qsource Quality Innovation Network – Quality Improvement Organization (QIN-QIO). Under contract with the Centers for Medicare & Medicaid Services (CMS), atom is working on the Everyone with Diabetes Counts (EDC) initiative. EDC provides Medicare beneficiaries living with diabetes and pre-diabetes (borderline) an opportunity to participate in free diabetes self-management education (DSME) classes within their communities.
Over 550 Alabamians have graduated from DSME classes taught by AQAF staff and their trained peer educators. DSME classes consist of 6 weekly sessions that occur in communities across Alabama. The classes utilize a curriculum developed by the University of Illinois-Chicago called the Diabetes Empowerment Education Program (DEEP). atom is also conducting DSME classes throughout Indiana, Kentucky, Mississippi and Tennessee.
One of the major barriers Alabamians face with obtaining diabetes self-management education is the lack of availability. To meet the need, atom has trained 27 peer educators statewide and plans to train more in the coming months. This effort allows them to dedicate at least one certified educator for each of the state's 67 counties. These types of efforts are very important to help people with diabetes and pre-diabetes stay healthy and prevent complications associated with diabetes.
The DEEP curriculum has shown to be successful in significant ways. Students have provided the following compliments and commentary about the DEEP classes:
"It helped me to understand better"
"Very informative, she uses props….patient when answering questions to my understanding."
"….made everything plain."
"Looking forward to the next session."
"I appreciated the sincere efforts of the instructor who communicated how managing my health was really a simple process after all."
The program primarily focuses on minorities and residents in rural areas. Classes typically are held at senior centers, churches, local community facilities and housing developments. These teaching locations allow for ease of access to those who lack necessary transportation to travel outside of their immediate community.
Qsource has set a goal to graduate at least 500 Alabamians each year until the QIN-QIO contract ends in the summer of 2019. Their over-arching goal is to show the benefit diabetics receive from DSME in the hopes of continuing this important work in the years ahead.
Story originally published on Qsource website.
Modified on December 10, 2020